The Marvel Cinematic Universe player Kat Dennings has gladly accepted the Twitter-spun idea that she looks like Brendan Fraser, and the internet is here for it.
Fans are rejoicing over a new opportunity to poke good-natured fun at celebrities. Dennings, known for her role as the sassy friend Darcy Lewis in the Marvel Cinematic Universe, kick-started the love fest by posting on her Twitter how often she thinks about being told that she looks like Fraser, which she takes "in a good way." Naturally, the internet took the ball and ran with it, creating memes and tributes to the similarities between the MCU actress and returning veteran of acting.
RELATED: WandaVisions's Kat Dennings Would Do Darcy and Jimmy Woo Spin-off 'In a Heartbeat'
The internet loves a good joke, and it's even better when an actor or actress is good-humored enough to risk being the butt of that joke. The tweet that started it all has become a hotbed of memes, comparisons, GIFs, and well-wishes. Dennings is known for her sense of humor, and seems to be playing into the love people have for Fraser, who has long been a fan favorite. Known for his role as Rick O'Connell in a trilogy of hit films that started with the 1999 action classic The Mummy, Fraser has been seen as a heartthrob for years. His titular role in George of The Jungle even played up his good looks, leading most to agree that being compared to Fraser is a good thing.
Some highlights of the joke have been one particularly great Homer meme and a few Mummy-inspired GIFs that compare the two side by side. The funny irony of The Simpsons meme is that both have done voice-over work for the show in the past, with Fraser voicing Brad in season 9, episode 23, "King of the Hill", and Dennings taking a turn as Valerie in season 29, episode 8, "Mr. Lisa's Opus". While most fans are happy to sing the praises of both actors, others focus on one or the other, comparing the two and sometimes showing confusion that they were deemed similar in the first place.
RELATED: Brendan Fraser Trends as Fans Fear Batgirl Cancellation Will Hurt His Comeback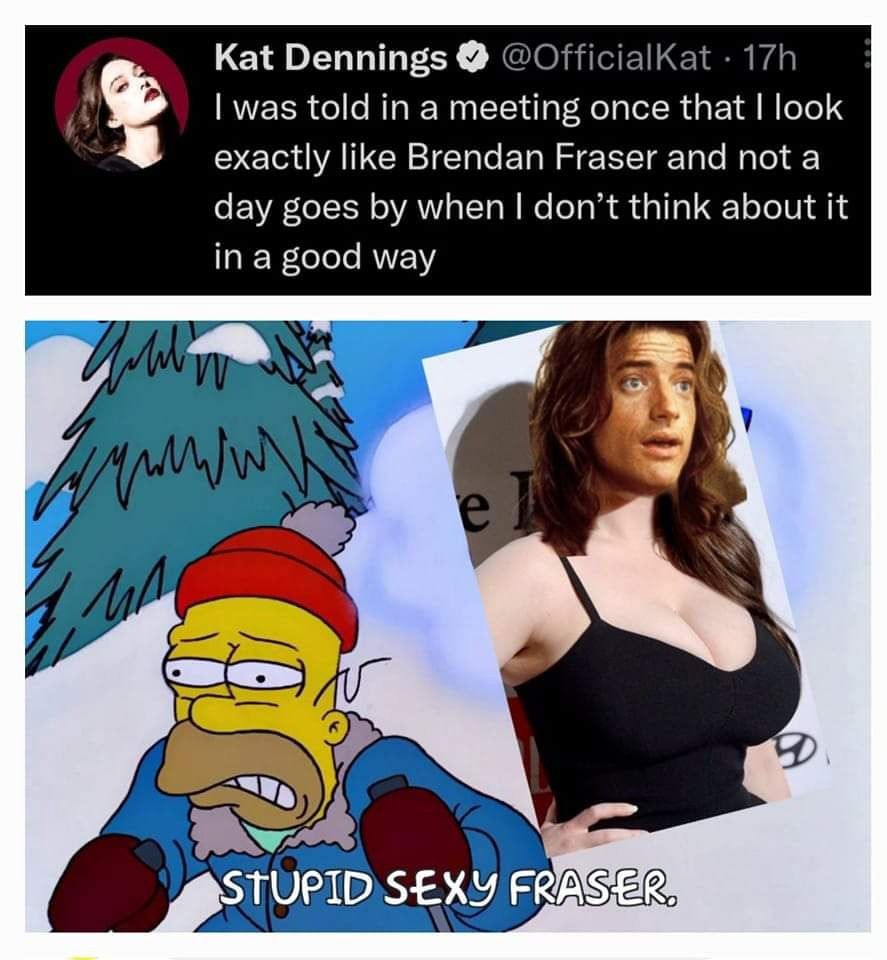 Dennings' arguably most famous role was as Max Black on CBS's 2 Broke Girls, but her forays into the MCU have been memorable. With supporting roles in Thor (2011), Thor: The Dark World (2013) and Thor: Love and Thunder (2022) and a prominent role in 5 episodes of the 2021 Disney+ series WandaVision, Dennings' Darcy has endeared herself to fans as a master of sass and physics. The actor is currently starring in Dollface, a buddy comedy about a woman returning to female society after a bad breakup. Fraser has been making waves during his recent return to acting with The Whale. The Oscar-buzzed movie earned a six-minute standing ovation at the Venice Film Festival where it premiered. Moreover, Fraser is now considered a front-runner for the Oscar for Best Actor.
The Dennings-Fraser face-swap opportunities here seem endless, prompting the internet to get goofy and fun with the similarities between actor and actress.
Source: Twitter