A Reddit user took a photo of a stern note she reportedly received from a neighbor while living in Vienna, Austria, that asked her to stop walking around barefoot before they called the police.
"*Gasp* imagine having the audacity to walk barefoot in your own apartment," read the title of u/AddieStark's post, which amassed more than 64,000 votes since it was shared on the "Mildly Infuriating" forum on Monday.
The person who left the note said if they continued to hear u/AddieStark walking around during quiet hours, they would call the police.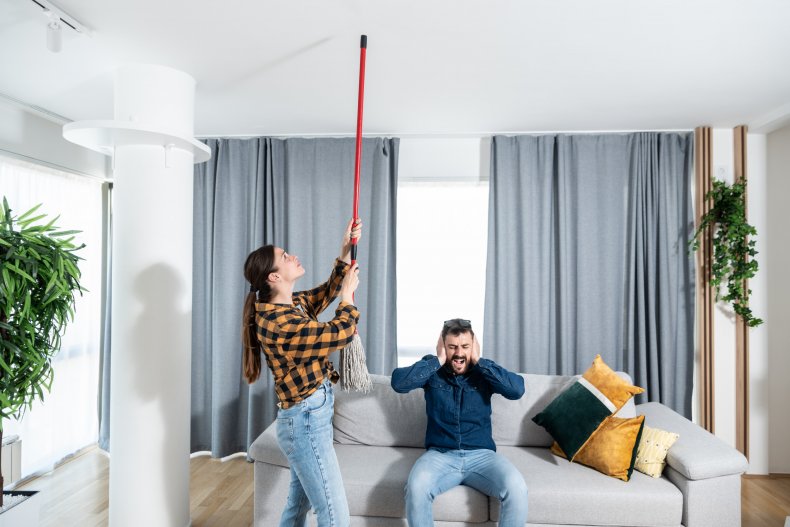 What To Do If You Have A Loud Neighbor?
It is inevitable that tenants living in an apartment building will hear noises from their neighbors, but the apartment listing website apartments.com published a piece about how someone can address a noisy neighbor.
They are encouraged to first determine whether they have a legitimate noise complaint.
"Unreasonably loud music played for hours on end is a valid reason to file a noise complaint," the organization said. "An upstairs neighbor walking in their home during the night is not."
When someone has a loud neighbor, they should document offenses and show them to a landlord or property manager.
They should also give a "courtesy knock" to let neighbors know they are too loud or speak with them.
"You can gently remind them of the quiet hours and city noise ordinance," the piece said. "Try not to leave a letter, as letters tend to come off as passive-aggressive."
'Stop Walking Barefoot'
u/AddieStark, however, was surprised to find she received a complaint from her neighbor.
"Stop walking barefoot," read the note she received. "If you keep doing that and especially during the Ruhezeit—Night silence (22:00 – 06:00) I will report you to the POLICE for disturbance."
u/AddieStark wrote to Newsweek that this took place in a student dorm building, but she did not live in the space for the entire summer.
"I just went back for one night to pack my stuff and return my key as I was moving out," she said.
She said she did not meet her neighbor and never heard of any complaints while she was living in the space.
Fellow Reddit users flooded the comments section to share their thoughts on the note, and some suggested that u/AddieStark may have caused some noise.
"Yes, that's a crazy note, but how heavily are you slapping your feet down if they can tell they're bare," a Reddit user asked.
"My wife and I are 28 and she still doesn't realize how loud she walks, it's very loud," said another. "I bet you stomp your heel on the ground without realizing it."
"Having lived with a heel striker before, I side with the neighbor," one Reddit user wrote.
That night, u/AddieStark said she packed her bags and went to bed early. She said she believes the noise may have come from another neighbor but did not hear any noise herself.
She also said she asked her boyfriend if she was loud when she walked around, but he told her he did not believe she was.
Some, however, defended u/AddieStark.
"What are they going to tell the police? My apartment is not sound isolated and I can hear my neighbors walking I would like to report that right now," a Reddit user said.
"I could understand if your feet were cymbals," another Redditor wrote.
"Laws like this confuse me, what if someone has a night shift normally and are awake at those times otherwise?" one Redditor asked. "Are they not allowed to live?"
u/AddieStark said she's learned from the experience.
"I did learn some new things about heel walkers and Germans/Austrians being very particular about their nachtruhe [sleep]," she said. "And that I'm definitely getting a house in the future."
Other posts on the popular "Mildly Infuriating" forum have previously gone viral.
A photo that showed the requirements for a student to use the bathroom divided Reddit users.
Another post showed what remained of one man's distressed T-shirt that he held on to for 20 years, while one woman shared the conversation she had with a man after she told him she does not drink alcohol.